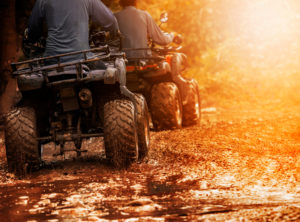 Riding ATVs is a great way to spend a day in California but unfortunately it can also result in serious injuries. If you have been involved in an ATV accident then we encourage you to contact Law Offices of Michael A. Kahn at (310) 209-1600 as soon as possible. Otherwise, read on to learn how you can work to stay safe when riding an ATV in California.
The statistics on ATV injuries may shock you
Many people have no idea just how dangerous an ATV can be. In fact, people often assume that they are safe for children to drive. The truth is that it can be just as dangerous to let a child drive an ATV as it would be to let them drive a full-sized truck – especially without the right safety equipment.
Consider that there are about 100,000 injuries from ATV treated in ERs across the country. About 25% of those injuries – so around 25,000 – are children not yet 16 years old. The truly devastating part of this is that more than 400 people die each year in fatal ATV accidents.
The leading cause of death and disability or ATV accidents
By far, the most common cause of both death and disability with ATV / off-road vehicles is head trauma. It is often the case that the rider was not trained on how to use the vehicle. Fatal ATV accidents almost never involve the rider wearing a helmet. There are many other injuries that can happen as well, including broken bones, injuries to the spinal cord, broke ribs, abdominal injuries, and neck injuries.
When the rider is traveling at a high speed, rollover crashes are more likely. Remember that an ATV / off-road vehicle can get up to 80 miles per hour. Safety gear should always be worn and only those who are trained should be driving them.
How to reduce the chance of a fatal ATV accident
There are a few things you can do to reduce the chances that you or a loved one will be involved in a fatal ATV accident. First, as we mentioned above, make sure that anyone who is driving one knows how to operate it. Do not assume that a child is old enough to drive it based on their age. They may be big enough but that doesn't mean they have the judgement or experience to navigate hills, turns, obstacles, etc.
Safety equipment is a must as well. This should include a helmet every time a person rides it. Finally, make sure that the ATV is only ridden in a safe place that does not have hazards including people driving automobiles.
These tips can help you reduce the chance of being in an ATV accident. However, if you have additional questions or if you have already been injured then we urge you to contact Law Offices of Michael A. Kahn at (310) 209-1600. We are here to provide a consultation so that you know what your legal options are.